DR. JAIDEV SUDAGANI
MBBS, MRCP,MD (Research),CCST Endocrinology
CONSULTANT ENDOCRINOLOGIST
Dr. S. Jaidev is a Consultant Endocrinologist at Santhi Endocrine and Diabetes Hospital. He has rich clinical experience in the specialty, having graduated, MBBS, from Siddhartha medical college in 1997 he has done post graduation in U.K. in various teaching hospitals. He has obtained additional post graduate degrees-MRCP, CCST diabetes and endocrinology, MD research in molecular genetics of type 2 diabetes from U.K.
He has worked as a Consultant Physician and Endocrinologist for 3 years in the U.K. He has started the Diabetes and Endocrine unit at Santhi hospital in December 2011 and runs an efficient service in the care of diabetes patients- Type 1 diabetes, Type 2 diabetes, diabetes pregnancy, Adolescent diabetes, diabetes foot, diabetes emergencies. Endocrine services provided include thyroid diseases, thyroid surgery, PCOS, infertility, pituitary diseases, adrenal disorders, growth disorders in children. The unit is supported by MD General physician, Obstetrician & Gynaecologist, General surgeon, M.Sc Dietitian, diabetes counselors, Pharm D pharmacy doctors. The hospital is well equipped with major OT, minor OT, Santhi Laboratory, Santhi Pharmacy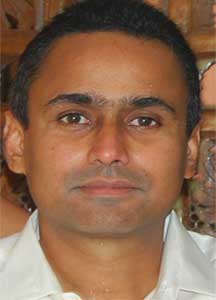 From Dr. Andrew Wardman, M.D., FRCP
RE: DR JAIDEV SUDAGANI
I am writing this reference as a consultant colleague of Dr. Sudagani who has worked within Wrightington, Wigan & Leigh NHS Foundation Trust between December 2009 and August 2011. Currently I am also the Trust's Director of Medical Education and Responsible Officer.
Throughout Jaidev's period of employment he has performed at a consistently high level. He has been a dependable colleague who also works with a high level of professionalism. He has shown good clinical acumen in the field of Acute General Medicine. I have not experienced his practice in Specialist Endocrine work but I have no reason to suspect deficiency in this field. He communicates well with patients. I have observed him dealing with them in a professional and empathetic manner. I have not directly observed him undertaking practical procedures but I am aware of him undertaking standard procedures of Acute Medicine without difficulty. His documentation is of high quality and I have observed this both from notes and his dictated letters to General Practitioners. I have observed him assisting and teaching trainees and I have received good feedback with regard to his abilities in Medical Education. He has involved himself actively in our Audit & Governance Meetings.
2. From Dr S PEARCE BmedSci, BMBS (Nottingham), MRCP (UK)
Dr. Jaidev Sudagani has worked as my colleague as a Locum Consultant Physician in Acute Medicine and Endocrinology at the Royal Albert Edward Infirmary, Wigan from 9 December 2009 to the current time. His post consists of duty on the Medical Admissions Unit seeing acute medical referrals and looking after these for the first 24-48 hours after admission, and attendance at endocrinology clinics at both the Leigh Infirmary site and the Thomas Linacre Centre Out Patient Department at Wigan. In addition he has taken on the role of joint supervision of final year medical students, organising and delivering teaching for the medical assessment unit doctors as well as taking part in the programme teaching for CMT trainings.
Jaidev has proved himself to be an extremely valuable, reliable and knowledgeable colleague. He provides an excellent service on both the Medical Assessment Unit and the Endocrinology Out Patient Clinics. He has a thorough and meticulous approach to his work, and communicates well with patients.
3. Susan Gelding MD FRCP
Consultant Physician / Honorary Professor of Medical Education
Dr Jaidev Sudagani was Clinical Teaching / Diabetes Research Fellow post MRCP at Newham General Hospital from October 2002 until September 2004. This was a joint post between Newham University Hospital Trust and Barts and the London School of Medicine, where he undertook research into the genetics of type 2 diabetes, working for an MD thesis under the supervision of Professor Graham Hitman. I was his supervisor for the teaching component of the post based at Newham, where he also took a regular weekly diabetes clinic.
In his teaching role Jaidev was responsible for teaching medical students from Barts and the London School of Medicine. He organised and delivered weekly clinical bedside teaching each year for around 30 third year students and 25 final year students. He set and marked written course work, held student appraisals and organised and marked end of firm clinical examinations. He is a trained Problem Based Learning Facilitator and held a regular weekly PBL session for the 3rd year students. He also supported the students on the Special Study Module in Endocrinology and Diabetes. He is an experienced Final Year OSCE (Objective Structured Clinical Examination) examiner and was a lead member of the local Final Year Part 6Bi OSCE organising team. He clearly enjoys teaching and has first rate clinical skills. He is a diligent doctor and works very efficiently.
Jaidev displayed excellent organisation skills. He adeptly managed to combine his teaching, clinical and research roles of the post on different sites and completing the work for his MD. He is very hard working, responsible, reliable and very supportive to the students.
A major part of his role was to liaise with senior clinicians in other departments and this he achieved expertly. He tackled projects with a calm organised approach and always saw them through to completion. Personally, he has a very pleasant personality, works very well in the team and is always prepared to be flexible when required.
In my current job as Consultant Endocrinologist I do diabetes and endocrine clinics, manage In-patients with diabetes and endocrine related diseases. In U.K. as a Consultant in Diabetes and Endocrinology included doing- Diabetes clinics, high risk foot clinic, diabetes pregnancy clinics, lipid clinics and Endocrine clinics- thyroid, pituitary, PCOS, adrenal and gonadal disorders clinic, In-patient management of diabetes and endocrine patients. I also participated in G(I)M on call rota and am in charge of patients on the medical ward and supervise undergraduate and post graduate doctors.
I did research in molecular genetics of Type 2 Diabetes under the supervision of Professor G.A.Hitman and Dr. Rebecca Allotey. The gene studied was EIF2AK3. It was a large scale candidate gene association study and involved case controls- type 2 diabetes patients and controls, and family based study in British Irish resources and South Asian resources. I was involved in recruiting cases and controls for South Indian Dravidian population from East London, DNA extraction, sequencing of the gene, performing genotyping using PCR, high throughput genotyping techniques- taqman and amplifluor, managing a large database of nearly 15,000 samples for 10 Single nucleotide polymorphisms of the gene, and analysing the data. We proved that common variants of EIF2AK3 were not associated with the polygenic Type 2 Diabetes
I regularly participate/ give lectures in Diabetes and Endocrinology specialty academic meetings. I supervise medical students, Under-graduates and Post-graduates, and Pharm D doctors in clinical and research activities in the field of diabetes and Endocrinology.
12.12.2011-current
Consultant Endocrinologist
Santhi Endocrine and Diabetes Hospital
Vijayawada
01.04.2017 – current
Assistant professor,
Department of medicine,
Dr. Pinnamaneni Siddhartha Institute of Medical Sciences and Research Foundation, Gannavaram, AP
MBBS
MRCP
CCST Diabetes and Endocrinology
MD Research
10.11.2008 to 25.11.2011
Consultant Physician, Acute Medicine, Diabetes and Endocrinology
Preston, Wigan, North Manchester, Sunderland
04.10.2004- 31.10.2008
Specialist Registrar, Diabetes & Endocrinology, General Medicine North Western Deanery, Manchester- Manchester Royal Infirmary, North Manchester General Hospital, Hope Hospital, Royal Preston Hospital.
01.10. 2002- 30.09.2004
Diabetes Research fellow, LAT RegistrarDiabetes & Endocrinology, General Medicine, Northern Deanery
02.08. 2000- 16.02.2001
SHO Medical Biochemistry/Metabolic Medicine
University Hospital of Wales, Cardiff
05.08.1998- 01.08.2000
SHO General Medicine,
05.08.1998- 01.08.2000
SHO General Medicine,
05.12.2011-07.03.2014
Consultant Endocrinologist,
Assistant Professor,
Department of Endocrinology,
NRI General Hospital, Chinakakani, AP
December 1996-July 1997
SHO General Medicine,Santhi Hospital, Vijayawada, India
December 1995-December 1996
PRHOUniversity General Hospital, Vijayawada